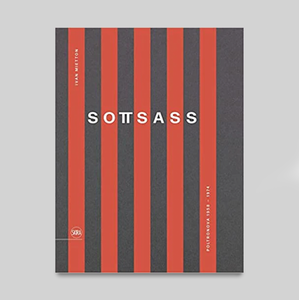 The decade of collaboration between the Italian designer and architect Ettore Sottsass (1917–2007) and Tuscan furniture company Poltronova from 1960 to 1970 marked a phase of almost total freedom for the designer. The breadth of this era, both rich in creations and decisive in establishing the designer's style, is now accessible in this analysis of Sottsass' work, augmented with advertising photos from the period, annotated sketches and his personal photographs.
In 1956, at the request of the painter and sculptor Sergio Camilli, Sottsass became the artistic director of Poltronova, Camilli's new furniture company. Sottsass then created Poltronova's logo and produced its first catalogs. The vibrant, playful Poltronova catalogs express his experimentation with geometric shapes, mixes of materials and vibrant colors.
The brand became a true standard bearer of Italian creation, collaborating with renowned artists such as Max Ernst. This beautiful catalog, designed in a characteristic Sottsass style, serves as both a guide to all the pieces that he designed with Poltronova and also a celebration of the master's playful spirit in wood, steel, marble and every material he could implement to construct his iconic chairs, cabinets, mirrors and more.