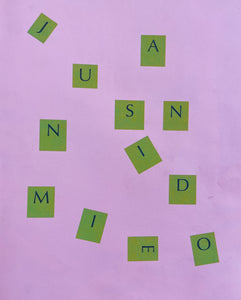 Page count: 44pg. Risograph printed in 5 colour: yellow/fluorescent pink/bright red/aqua/black. Paper: acid free light pink paper 135gsm cover with inside pages being creamy book paper 70gsm & munken lynx 130gsm. Binding: Green binding tape and singer sewn in pink thread. Each artist book includes a unique selection of test/process pages bound into the book, a randomly selected risograph art print on acid free paper of one of the collages in the book. Each book comes wrapped in a sage acid free paper wrapping with an original chine collé college by Juan. Limited Edition of 25, signed and numbered by the artist.
Juan Orrantia's photographic practice interrogates historical narratives and experiences of looking and being seen. Born and raised in Colombia, and having spent much of his adult life in South Africa, his work builds on experiences of dislocation, postcoloniality and questions of representation through formal engagements with color, appropriation, and the photobook. 
He has published "Like Stains of Red Dirt" (Dalpine 2020--winner of the Fiebre Dummy Award), and "A Machete Pelao" (Cdf 2022), winner of the Fotolibro Latinoamericano Centro de Fotografia de Montevideo. He also makes artist books, some of which are held in collections like the Smithsonian Museum of African Art Library, Biblioteca de Arte Fundação Calouste Gulbenkian, The Ginsberg Center for the Book, Wits Museum of Art, and the Tierney Foundation. Reviews of his work appear in Aperture, Nearest Truth, BJP, Africa is a Country, among others. Juan is now Assistant professor of Fine Art Photography at the Rochester Institute of Technology, having previously taught at Wits University Fine Arts (Johannesburg), Bard Center for Human Rights and the Arts, the ICP among others. He holds an MFA in Photography from Hartford Art School and a PhD from Yale University, and spends his time between Rochester (NY), South Africa and Colombia.