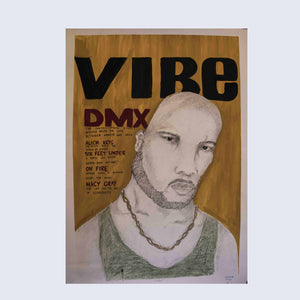 Zenande Mtati's DMX "VIBE" Cover takes as prompt an October 2001 magazine cover featuring a photograph of rapper DMX accompanied by listings for such throwback icons as Macy Grey and the 1990s label Death Row Records. In Mtati's hands, VIBE's glossy photographs become warped and altered, slightly wonky, simplified and posterised. By looking for subject matter in the ephemera of everyday life (like an old magazine), Mtati entreats us to see such seemingly mundane images anew and afresh. 
70 X 100 cm | pen and acrylic on Fabriano | unique
Zenande Mtati (b. 1993) is a self-taught interdisciplinary artist who specialises in drawing, painting, photography and digital collage. His working methodology considers social commentary, iconology, identity and culture as modes towards image- and art-making.