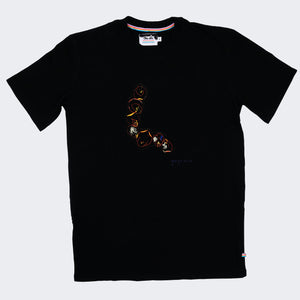 From the artist:
"The title of this collection refers to the thick, entangled roots of kelp, which fasten themselves in and around rocks on the ocean floor. The name 'holdfast' is prescriptive of its ecological function: to hold the organism in place. The embroidered artwork on this tee is outlined by a plastic laminate border which depicts a fictional plastic epidermal sac for the organic specimens within. This collection considers the potential future ecological function of plastic as a holdfast knot, braiding itself into organic bodies and fastening them as kelp does to the ocean floor."
The Holdfast: Outside Organs Tee was produced in collaboration with local seamstresses, using locally sourced materials and resources. Co-producer Andrae Bird of the Cape Town streetwear brand, ABC Collection, used his bicycle as the primary mode of transport for goods during production.
100% cotton with embroidery | available in XS, S, M and L
Georgia Munnik (b.1990) is a South African visual artist based in Cape Town. Working across mediums and modes, she explores "weird ecological speculation as an exercise in the untranslatability of nature."