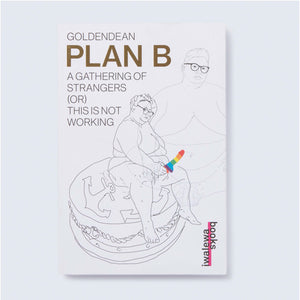 From the publisher:
"In July 2017 the South African Equality Court dismissed charges of Hate Speech against Goldendean's exhibition of a poster using the words "Fuck White People" in the Iziko National Gallery. The Chief Magistrate found that the work's context, as art, brought attention to structural racism and white supremacy, and drew South Africans to a "critical moment of self-reflection". Goldendean presents 
Plan B: A Gathering of Strangers (or) This Is Not Working
 reflecting on the effects of their performance of the very simple acts of dissidence in a transgressive Fat Queer WhiteTrans Body. The book explores how strategies of Technology as Self-Reflection and Radical Sharing, Queer Love and Queer Disobedience contribute to 'making whiteness strange' by destabilising the normal invisibility of whiteness to bring white bodies under surveillance."  
15 x 22 cm | 253 pages
Goldendean
is a genderqueer trans media artist provoking dialogue about the gaze, queer bodies, love and social justice. A.K.A. Dean Hutton, they have worked across photojournalism, print, digital, video and social media, performance and community action since the late 1990s. Their strategy of simple, often improvised actions by a "Fat Queer White Trans body" share moments of soft courage to affirm the right of all bodies to exist, to be celebrated and protected.