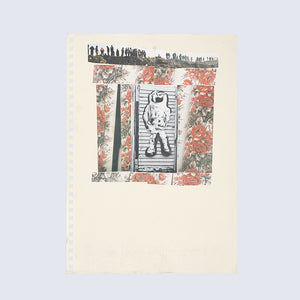 In his Processing Lockdown series, Lindokuhle Sobekwa uses collage and juxtaposition to make sense of the Covid-19 pandemic and its resultant restrictions and lockdowns. "I have been recording daily life," Sobekwa said, "how people are dealing with the difficulties and anxiety that is brought by the pandemic." Taken from the artist's notebook, each collage experiments in connecting the images that would later inform his installation Mthimkulu II in A4's gallery. 
 
Each of these process works recalls people and events close to Lindokuhle. Processing Lockdown IV - Dedicated to those who are fallen, however, offers a more ambiguous dedication.
 
Mikhael Subotzky and Lindokuhle Sobekwa's Tell It to the Mountains opened in A4's gallery in October 2021.
 
Lindokuhle was artist-in-residence at A4 from October 5 – December 14, 2020.
  25 x 17.5 cm | mixed media | unique
Lindokuhle Sobekwa (b.1995) is a photographer and nominee member of Magnum Photos. He was introduced to photography through Of Soul and Joy's school programme and later studied at the Market Photo Workshop. In 2017, Sobekwa was selected by the Magnum Foundation for Photography and Social Justice to develop the project
I Carry Her Photo With Me
. The following year, he received the Magnum Foundation Fund to continue with his long-term project
Nyaope
. Lindokuhle lives and works in Johannesburg.